Top Real Estate Tips for Small Businesses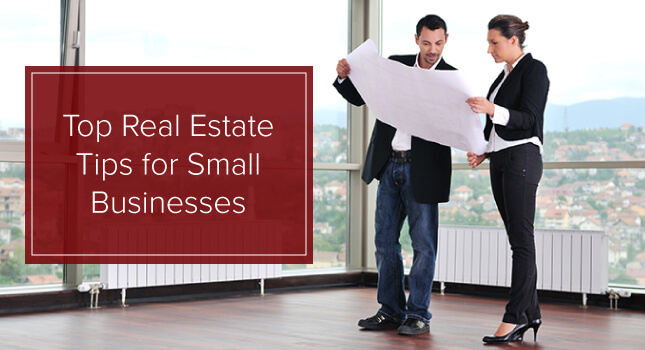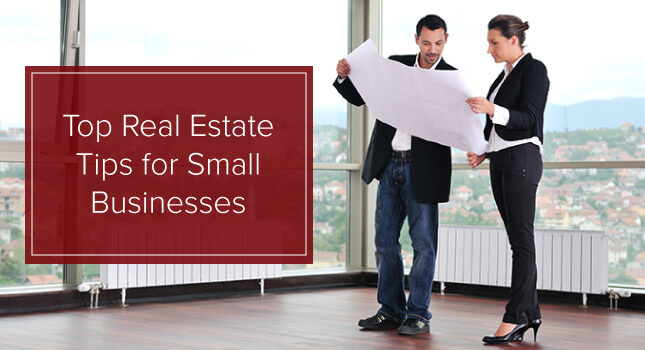 Small businesses need real estate, too. In fact, 85 percent of commercial real estate transactions handled by the National Association of Realtors are for properties under $2 million and involve businesses that the association considers "small businesses." Whether leasing commercial space or buying commercial property, small business owners need office space, retail space, manufacturing facilities, storage space etc… to operate their business, sell their products or services and to interact with consumers. While some entrepreneurs can work from home, many small companies and startups eventually need to rent or buy commercial space to continue growing their business.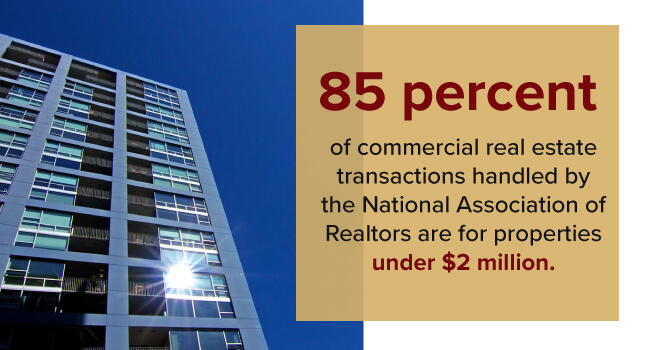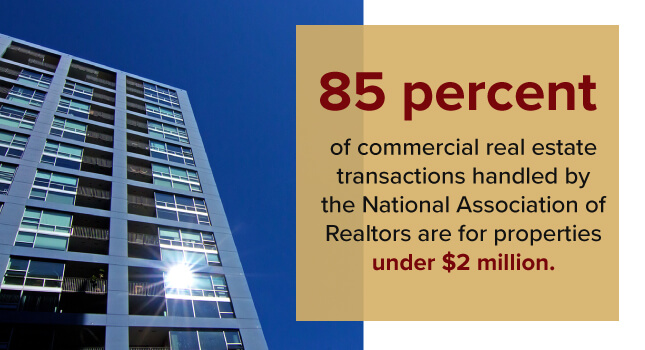 Real estate transactions can pose a large risk for smaller organizations, however. While large companies have legal teams, real estate professionals on call, and plenty of capital to rely on, small companies may face a number of challenges:
Fewer assets to use as collateral can mean more difficulty in securing financing
Commercial real estate can be expensive, especially in large cities
Smaller companies may need to spend considerable time searching for the right commercial real estate
Managing property is time-consuming
Despite these challenges, however, you may need or want a retail space, office or other commercial property to help grow your business. Please consider the following small business real estate tips before you proceed with leasing or buying commercial real estate.
1) Consider Your Plans and Options Before You Agree to Lease or Purchase Commercial Space.
If you are a brand-new entrepreneur and do not absolutely need an office, retail, or other commercial space that is exclusively yours, you can share an office space or work from home at first to save on costs. If you do need an outside space, carefully weigh the advantages of leasing or buying.
Both leasing and buying commercial real estate allow you to have a dedicated space outside your home office, which can make business easier and can assist with work-life balance. Both buying and leasing real estate can help you build your business, especially since a visually appealing commercial property can make your organization look professional and can help you with branding and marketing.
In the short term, buying commercial real estate is more expensive than leasing but over the long term, purchasing a commercial property is generally less expensive than leasing. Moreover, purchasing a commercial space gives you an asset that you can use when financing other parts of the business. You may also enjoy increasing real estate values and thus, a good return on your investment in commercial real estate. If your business prospers, you may be able to maintain the same location for as long as you like. You will also, however, be responsible for all areas of your property.
When leasing commercial space common areas are shared with other companies and maintaining those areas is the responsibility of the property owner, which reduces management and maintenance costs. Over the short term, the costs of leasing can be less than purchasing commercial property, and you may also enjoy some additional flexibility. As your business grows, you have the option of moving your operations to another location or potentially, expanding your leased space.
Before you rent or lease, consider your budget and needs:
What do you hope to accomplish with your company and your commercial property?
Do you hope to grow rapidly?
Do you want to attract walk-by customers?
Do you wish to become a visible part of the community?
2) Target Commercial Properties by Location
Location is one of the most important elements to consider when deciding whether to lease or purchase commercial real estate. When selecting an office or retail space location, consider how important centrality is and think about where your customers are located. If you hope to attract customers who will simply "drop in," you need to be in a high-pedestrian or highly visible area where clients can easily see and access your office or storefront.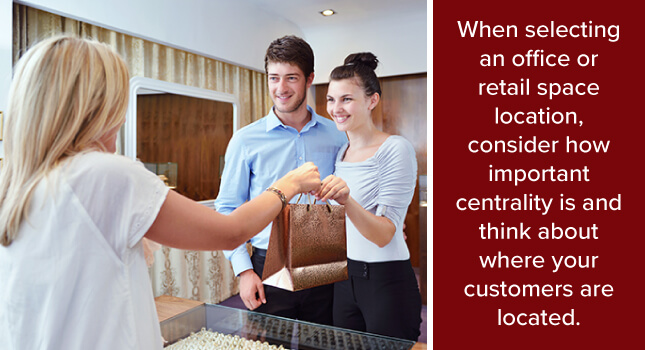 If cost is a primary concern and much of your business is online, a shared space or remote office location can cut costs. A business often visited by trucks and large vehicles — an industrial business, for example — benefits by being close to a highway and in an area offering lots of parking.
Keep in mind the area surrounding your commercial property can have a direct impact on your success:
If you are a family-friendly business, look for locations with family-friendly environments.
If your ideal customer is a college student, look for a college town and a location near a large college campus.
Even something as innocuous as a park or skating rink can have an impact on surrounding businesses, so always look at neighborhoods with a critical eye and keep asking yourself, "how will this affect my company?"
Look at forecasts and trends for neighborhoods, too, especially if entering into long-term leases or buying property. Are crime rates rising or falling in the area? Is the area seeing a revival or a decline? Are new projects or funds earmarked for the neighborhood?
Keep an eye on what's coming up. A major construction project across the street could hurt your business for the months or years it takes to build that new building. If a neighborhood's fortunes are on the decline, you can be sure property values are heading in the same direction — something you want to be aware of if you're buying.
Consider nearby competitors, too. As a small business, you might not have the marketing budget of the big conglomerates, so being placed next to companies with large advertising campaigns could hurt your bottom line. Put yourself in your clients' or customers' shoes — where is the ideal location for your ideal audience to find you?
3) Plan Exit Strategies Before Leasing or Purchasing on Any Commercial Property
Whether you decide to lease or buy commercial real estate, work with a real estate business attorney to create an exit strategy. What if your business doesn't do as well as you hoped and you can no longer afford your lease? What happens if you buy real estate and you decide to walk away from your company?
Real estate changes succession plans and estate planning significantly. Get legal advice and develop a strong strategy to ensure your property stays affordable. Create a strong succession plan to guarantee your business can manage the property even if you are no longer at the helm.
Have a financial emergency plan in place, too, especially if you are a very small or new business. Have assets on hand to use to pay your lease or mortgage, even if seasonal fluctuations hurt profits or if revenues are not as high as you hoped. Consider buying a less-costly property or even a foreclosure, rather than stretching your financial resources too thin.
4) Have a Financial Plan in Place
Before you buy or lease commercial real estate be sure to have a strong business and the financial resources needed to close on the desired real estate. According to the National Association of Realtors, 52 percent of commercial real estate realtors report having clients fail to secure financing for a commercial property in the past twelve months. Unfortunately, a lender's evaluation of a businesses' ability to repay a loan is not always accurate so you must be sure your business can afford the loan you are seeking.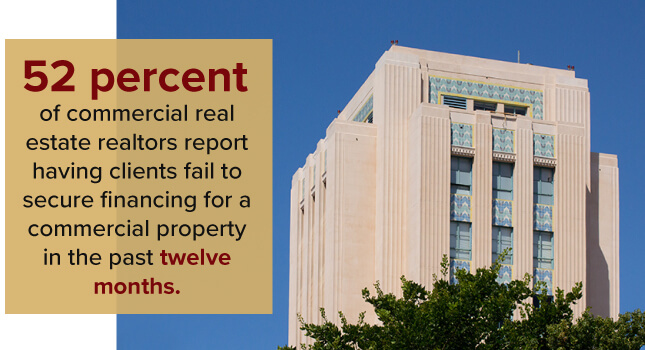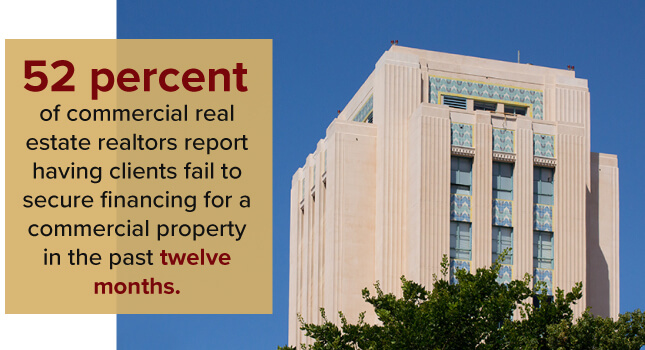 Lenders will look at your current assets, personal assets and business plan before offering you financing. Create the strong foundation for your business:
Consider a larger down payment to increase your chances for a loan.
At the same time, make sure you have enough liquid capital in the bank:

To cover operating costs, overhead and anything else you might need.
5) Understand the Agreement You are Signing.
Whether you rent or buy commercial property, there will be a written agreement, and you will want to review it closely with a commercial real estate attorney to prevent any unpleasant surprises. Go over the contract line by line.
Sometimes, commercial lease agreements can be confusing. For example, many will cite a "base rent" but the actual rent you pay may be significantly different. In addition to the base rent, you may need to pay taxes and insurance on the property or even operating expenses. If so, you need to ensure these costs reflect the size of the property and are appropriate for your business.
Some lease agreements have specific provisions or require you to maintain certain parts of the property in specific ways. Certain contracts prohibit specific activities. Make sure the contract does not ban you from any activities you need to grow your organization. In addition, pay attention to notice requirements. When do you need to give the property owner or landlord notice for renewal of the lease, termination of the contract, and other important actions?
No matter what the contract is, you can often negotiate the contractual terms. Work with a commercial property attorney who can help you understand the terms of your purchase or lease and can help you work on any clauses that might hurt your business interests. All commercial property leases are usually negotiable, and it is important to seek to revise any provisions that raise concerns to you as a business owner.
6) Have a Plan for Preventing Disputes
Disputes can easily arise in commercial property agreements:
What would happen if a customer was injured on your property and sued you and the property owner?
What would happen if the landlord rented a nearby property or the next office to a competing business?
Who is responsible if there is faulty wiring or another hidden issue in the building?
There are fewer consumer protections in place for tenants of commercial property, and these leases are long-term binding contracts. If you sign a commercial lease and later discover a problem with the lease language, you will likely have no recourse at that point. You cannot simply break your lease and walk away without penalty.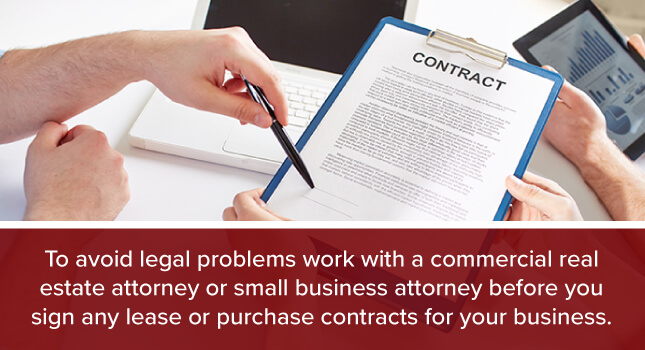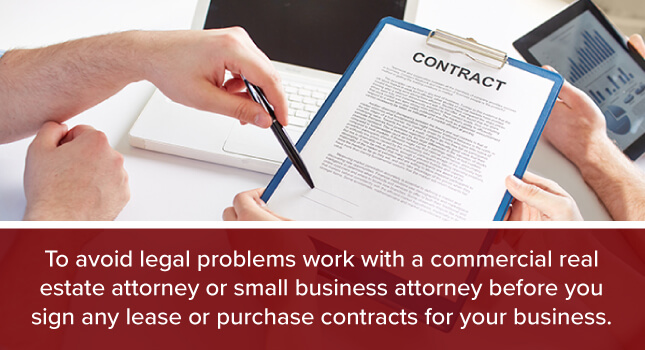 To avoid legal problems work with a commercial real estate attorney or small business attorney before you sign any lease or purchase contracts for your business. An experienced attorney can offer commercial real estate law advice and can help you understand common causes of disputes. He or she can point out potential red flags and problematic clauses in any property contracts. An attorney can remind you about any issues you need to look out for.
Even with an attorney, you will want to do your own due diligence. Have the property carefully inspected for any potential problems. Research the property itself as well as the area:
Is the area a high-crime area?
Are current and past tenants generally happy with the property?
Are there past or current disputes between tenants and the landlord or previous landlords of the building?
Are the area and the building well-maintained?
Be especially cautious if you need to make modifications before opening for business. If you need to redecorate, add a stage, add lighting, or change the kitchen, are you or the landlord allowed to make these changes? What if you decide you need different changes or more alterations in the future?
Never start any renovations or even simple decoration until you have the contracts signed and you have a plan in place in case something goes wrong. If a contractor causes damage to a common area or significant damage to the property you're leasing, you want to be protected from any legal action the landlord may take.
7) Make Sure Your New Property Complies with the Law
Before you sign a lease or buy a property, check local by-laws and consult with a commercial real estate lawyer or small business attorney. Certain businesses — such as bail bondsmen businesses, for example — are often barred in specific areas of many cities. Some local bylaws also prohibit large signs, which could be a problem if you need large signs to attract walk-by customers.
Finally, if your business will have more than 15 employees or will be open to the public, your premises need to be accessible to people in wheelchairs and to people with disabilities, according to The Americans with Disabilities Act (ADA). If you are leasing and the property needs renovations to comply with the ADA, make sure the agreement outlines who will be responsible for the changes. If you are buying commercial property, you may be responsible for making renovations yourself.
Working with an attorney is the only effective way to ensure that your new business property is compliant with all local, state and federal laws. In addition to zoning laws and ADA rules, you need to pay attention to insurance regulations and other laws. An attorney familiar with commercial real estate law is well-versed with these laws and can work to help you prevent expensive real estate law mistakes.
Contact Our Legal Team Before You Sign
Choosing business real estate is a big decision. In fact, it may be one of the most important decisions your organization makes. Whether you're a startup, a growing company or a long-standing family business, the right property can help you build on success and grow your organization. The wrong property can be an expensive and time-consuming mistake.
If you need help handling real estate law questions, contracts, have commercial leasing questions, property disputes or other commercial real estate issues, contact Calabrese Law Associates for a consultation. Calabrese Law Associates is an award-winning law firm and the firm's attorneys have received accolades in the areas of real estate and construction law, leasing and transactional real estate matters, government regulations, and litigation practice areas.
What we're most proud of, though, is our relationship with our clients. We passionately believe in supporting our clients to the fullest extent and in dedicating our best efforts to their cases. Our clients recognize our dedication and respond by recommending us to others and by continuing to work with us when legal needs arise.
Making a difference in clients' lives is the goal of our law firm, and we welcome the opportunity to help you and your company succeed. If you have any issues regarding commercial real estate law transactions or would like legal advice about renting or leasing commercial real estate, fill out the contact form on the Calabrese Law Associates website. A member of our legal team will contact you shortly.
Sources
"This publication and there contents are not to be construed as legal advice nor a recommendation to you as to how to proceed. Please consult with a local licensed attorney directly before taking any action that could have legal consequences. These publications and there content do not create an attorney-client relationship and are being provided for general informational purposes only. See our Legal Notices page for more information concerning our Website Terms of Use and Disclaimers."